Here is the 3rd sequel to the offbeat movie series, more or less the bread and butter of my blog with this series garnering the maximum hits. Sequel 4 coming soon :P.
1.Dragon Hunters (French/English)
(Adventure/Comedy)
The creators of this movie surely have got some imagination. This animated movie has floating pieces of land, castles and what not. Story is about 2 lowly dragon hunters who can be hired for any measly sum. They come across a knight who hires them to kill the greatest dragon of all time with a lip smacking offer. So they set on with their journey, joined by the granddaughter of the knight for the showdown with the beast. The finale is really spectacular.
2.In Bruges (English)
(Action/Comedy)
One of the few movies where Collin Farrel is actually tolerable. The main plot has 2 english hitmans lying low in Brudges(Belgium) after their last job had gone horribly wrong and how they lead their life, finding love, compassion and becoming human. Even though the setup is grim the situations and dialogues are very funny. A good black comedy.
3.Sin City(English)
(Action)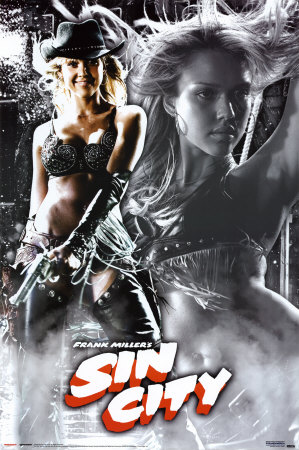 The bad"est" ass movie I have ever seen. This movie goes into full throttle from the word go and holds nothing back. It has got multiple stories interleaved and each of lead characters fighting their inner demons. Jessica Alba and her class dance as a cowgirl is really sexy, hard to keep the eyeballs off her :).
Caution : This movie has extreme violence, not for the faint hearted, with me cringing at many instance :P. Waiting eagerly for Sin City 2 due to release soon.
4.Shaun Of The Dead (English)
(Horror/Comedy)
When you have got Simon Pegg and Nick Frost together, there is no need to expect anything other than a laugh riot and this surely is one. More or less a spoof of "Dawn of the Dead" with lots of zombies to be battled by the hero and the sidekicks and with a minor problem of wooing his ex-girlfriend. A non-stop laugh marathon guaranteed.
5.The Man From Earth (English)
(Drama)
If you thought that a movie without any action, romance, comedy,special effects (dependent on different peoples taste) is not entertaining then you got to watch this movie. Heck the setting of this movie doesnt even go other than the living room of a house with all the characters placed within it and they just talk and talk for a whole 90 mins. A very engaging movie and a must watch.
6.Kick Ass (English)
(Action/Comedy)
When you combine a comic book hero with reality then what you get is "Kickass". An action packed movie about how a teenager decides to fight crime with just a divers tights and a few metal screws embedded in his bones. And as expected he gets his ass kicked in most of the cases , but he never gives up. Problem starts when the city's underworld take notice of him and decide to finish him off when things get really messed up. Awesome realistic action scenes except whenever the 11 year girl is kicking butt of people 4 times her size :D.
7.Moon(English)
(Drama)
A movie akin to movies like the The Matrix, Inception which literally plays with your head. Movie has just one astronaut (Sam Rockwell) and mission computer (GERTY) as the major characters of this movie. The astronaut is employed to work solo in a colony on the moon for 3 years. But things dont appear to be what they are, and slowly he discovers the shocking truths. Awesome storyline.
8.Udaan (Hindi)
(Drama)
One of the first Indian movie to address the teenage angst we all felt in those time( I am still feeling it :D) and we could expect nothing from Anurag Kashyap even though he didnt direct this one. Udaan is the coming of the age story when the lead character is pit up against a inconsiderate father whom he meets after 8 years. With the death of his mother the entire father-son relation is volatile and goes ballistic at the slightest provocation. Ronit Roy does an awesome job as a authoritarian father and rightly deserved the filmfare award eventhough many of these awards are given away based on hype and not upon true performance.
9. Cube (English)
(Horror)
A movie which could be said as an inspiration of the much successful "Saw" series but sans the extreme gore and violence, which is there just for the sake of it in the "Saw" series. Six people are trapped inside what seems like a giant maze and they have escape from it to save their life's, apart from the answer to the question as why they are there in the first place. When their life is question all sorts of different behavior start to emerge and we witness a nail biting piece of movie.
10.Brotherhood(Korean)
(War/Drama)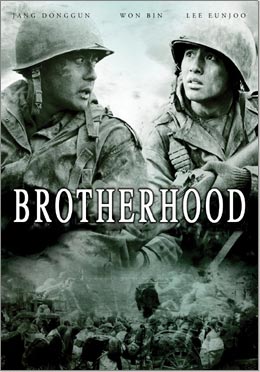 A fictional setup in a non-fictional korean war. Its the story of two loving brothers who are ready to sacrifice anything for the other. Their life of hard yet satisfying life is interrupted when North Korea invades and south and both the brothers are recruited into the army. Slowly there is constant friction between the brothers and it takes a dramatic turn when the elder brother is captured by the North and brainwashed , resulting in both the brothers having a mortal face-off, with a tragic ending as with all the wars.